At Sky High Vision you will find a caring team of professionals dedicated to providing high-quality personalized eye care for the whole family. We value our patient relationships and strive to improve your quality of life and vision wellness through uncompromised service and state-of-the-art technology. Marc Ofchinick O.D., and Megan Kirchner O.D. and their staff are a close-working team.
Dr. Ofchinick and Dr. Kirchner have a wide range of experiences in eye care. Sky High Vision is a family owned husband and wife practice. They are local Arvada residents and honored to be able to serve the surrounding communities. They enjoy spending time with their sons, Maxton and Mason, and their two golden retrievers, Iris and Blink. They have extensive experience in primary care as well as comanaging LASIK/PRK/cataract surgeries, low vision, pediatrics, vision therapy, and fitting specialized contact lenses. They have practiced optometry in many regions of the country from Alaska to Florida to California. They both hold multiple certifications in the field of optometry.
Dr. Ofchinick obtained a Master of Science from Drexel University College of Medicine, a Bachelor of Science from Indiana University of Pennsylvania and obtained his Doctorate from the Pennsylvania College of Optometry. Dr. Kirchner obtained her Bachelor of Science from Colorado State University and her Doctorate from Arizona College of Optometry.
Gabe is one of Sky High Visions expert Opticians. In his youth, Gabe considered himself a Jack of all Trades and Master of None. Now with many years of life experience behind him, he considers himself a Jack of Many Trades and Master of a Couple. His many interestes include cooking, gardening, bead work, fly tying, and more recently, writing. He especially enjoys and excels in Christmas crafts. His mother is an Artist who encourages the creative side in both himself and his siblings. He started learning arts and crafts at the early age of 3 when he completed his first painting of a tree. His dad was a mathematician who inspired Gabe's logical side. Gabe's chosen occupation is that of an optician where he can employ both the logical, medical, and scientific side with the creative side. He considers working with colors and shapes to fit all the various facial features, skin colors, and complextions another avenue for the expression of art.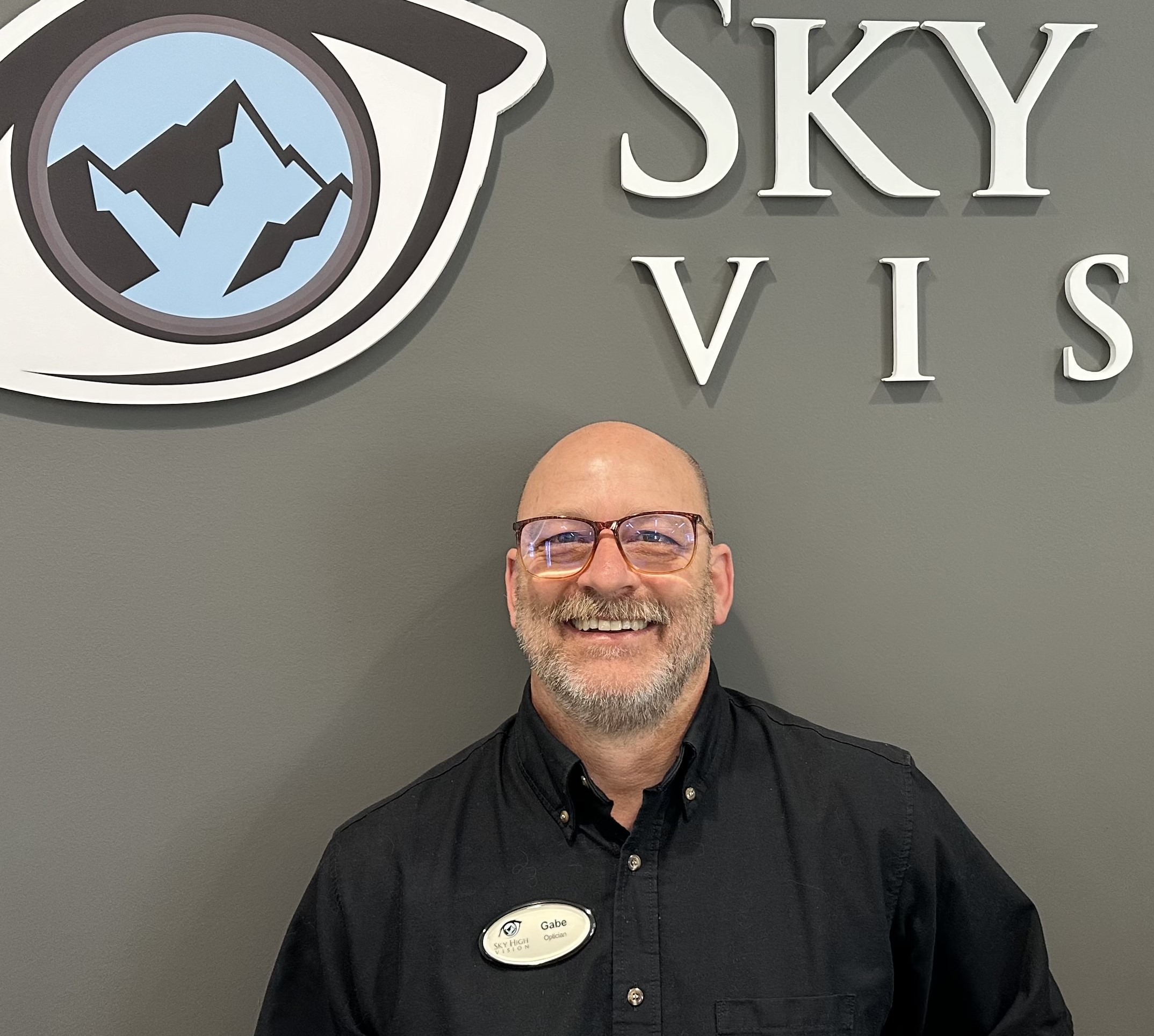 Michelle is an experienced optician on the Sky High Vision Team! Michelle has been in the Optical/Ophthalmic field for over 20 years. She has done it all in the eye business, everything from eyewear to eye surgery. She loves providing our patients with a memorable experience and helping them be fit with new eyewear. She is a proud grandma of 18 grandchildren and a mother of 6. She spends most of her time with her family and enjoying all the birthday dinners. Michelle loves to travel and her favorite places to go are the ocean and to Disneyland. When you come to Sky High Vision, you will likely meet Michelle and she will help you with whatever you need!